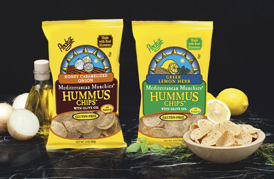 Try one of the two exciting new flavors of Plocky's Hummus Chips. Honey Caramelized Onion is a sweet savory chip that combines the subtle sweetness of honey with the caramelized taste of grilled onion. Greek Lemon Herb combines the bold taste of lemon with a delicate bouquet of fine Mediterranean herbs.
Avacobella features all the varieties of Hummus Chips® including Original, Roasted Garlic and Roasted Red Pepper. Plocky's® Hummus Chips® come certified Kosher and are packaged in attractive sturdy bags with a long shelf life.
Plocky's Hummus Chips are the first-of-its-kind, made from real hummus and olive oil.
Plocky's  Gluten-Free Hummus Chips are a delightfully crunchy Mediterranean snack made with real hummus. They use only the best all-natural ingredients with absolutely no preservatives, zero trans-fat and no genetic modification. For more info on the full line-up of chips see our product page.
Contact us today to get more information at info@avacobella.com. Or submit an order request to get some today!